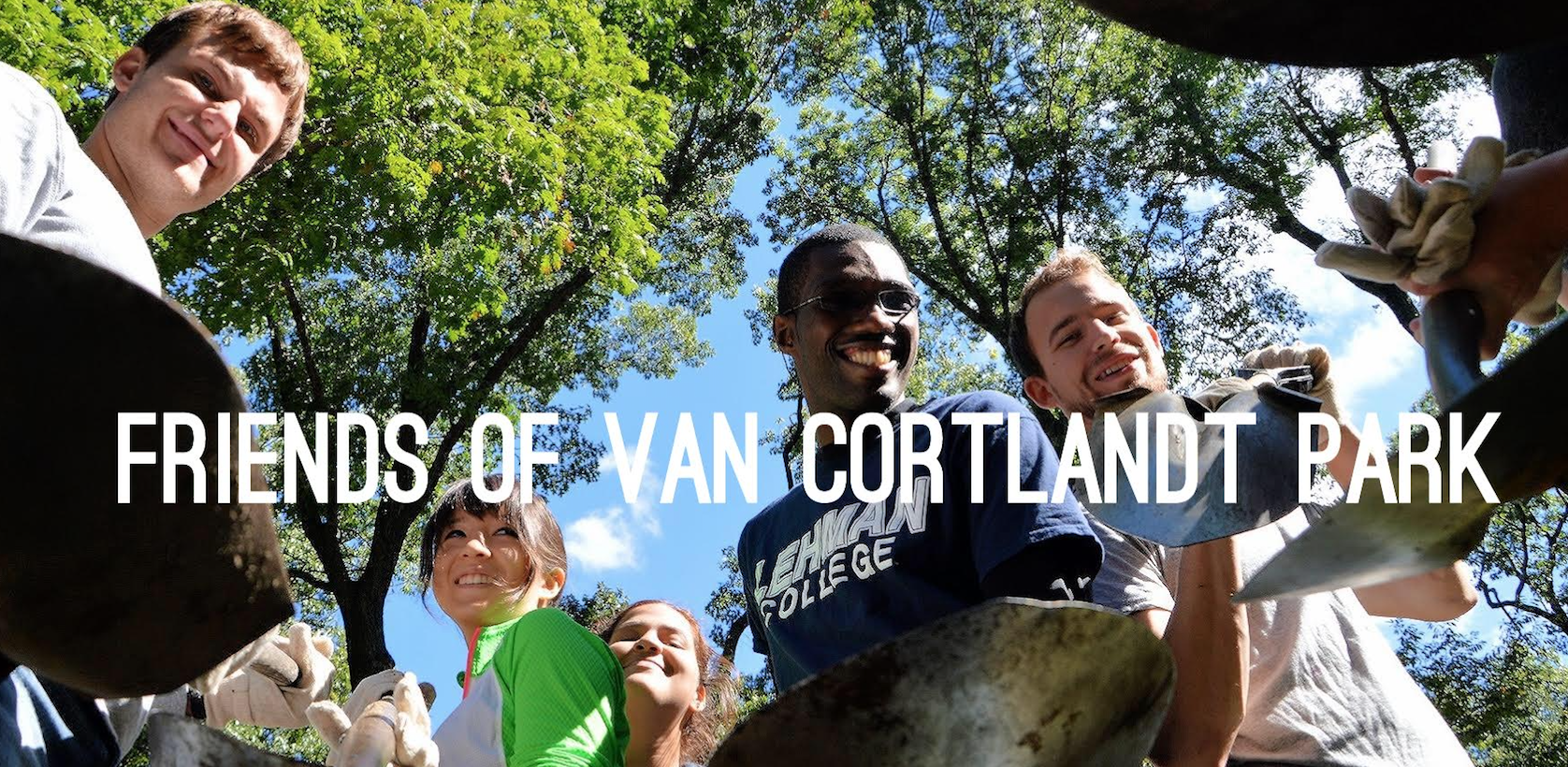 Bringing Youth, Community and Nature Together for 25 Years!
August 2017
This summer the Friends have had several projects going on in Van Cortlandt Park ranging from our summer interns maintaining the trails and removing water chestnut from the lake to a professional crew cleaning the Grand Central Stones. For our Grand Central Stone project we have partnered with the Municipal Art Society
thanks to funding
from the Paul and Klara Porzelt Foundation. Together we are making progress with the stones being cleaned so that you can now see the different types of stones that the railroad company was testing. We are also developing a plan to combat any future graffiti that may appear, cleaning up the forest around the stones and working on historical signage. We hope to have the project completed in time for our Hike-toberfest.
On
Saturday September 23rd
, join us for our second annual Hike-toberfest to hike, eat, drink & celebrate with Friends during a fun fundraiser for the hiking trails of Van Cortlandt Park. Come see why VCP is Where NYC Hikes. Thank you to all our sponsors to date: Allstate Insurance, Bronx Beer Hall, Bronx Native, Food Dynasty, Loreley Restaurant & Biergarten, Loving the Bronx, and Van Cortlandt House Museum. Click here to
purchase tickets securely online
or
use this Registration Form to pay by check.
Also, this year the Friends of Van Cortlandt Park are celebrating our 25th Anniversary in several ways including the new banners that have been put up along Broadway and Van Cortlandt Park South and our
25th Anniversary Benefit on

Sunday October 15th
. This celebration will be honoring our founders and is being hosted by Meredith Vieira. For details on these events and more please see below and visit the
Events page
of our website.
Christina and all of your Friends at the Friends of VCP!
Friends of VCP's Upcoming Events
Rowboating on VC Lake
Fridays until

September 1st

from

4:30pm to 7:30pm
Village Community Boathouse will provide FREE rowing
in their fleet of traditional wooden rowboats. Children
under 18 years old need a parent present to sign waiver.
Enter the park at Van Cortlandt Park South & Bailey Ave.
Meet near the Lake.
Garden Crew
Tuesdays until

August 22nd

from

10am-1pm
Help care for our vegetable beds (where all of our produce
will be donated to local food pantries) and compost bins.
Bring water and sunscreen. Held at Friends' Compost &
Garden Site. Enter the Park at Broadway & Mosholu Ave.
Youth Run Farm Stands
Wednesdays from

2-7pm

until

October 25th

–
at the Train Park at Orloff Ave and Gale Place.
Thursdays from

12-7pm

until

November 16th

–
on the Corner of E. Gun Hill Road and DeKalb Ave.
Wednesdays will include healthy cooking demonstrations
and hands-on activities for the community.
Thursday's
market is being held in partnership with GrowNYC. Both
markets will accept Cash, EBT/Credit/Debit, Healthbucks,
FreshConnect Bucks, WIC and FMNP checks. Special
Thank You to Our Supporters: New Yankee Stadium
Benefits Fund, Clif Bar Family Foundation and Bon
Secours Healthy
ommunity Initiative.
Hike-toberfest 2017
Saturday September 23rd

from

2pm-7pm
Hike, Eat, Drink & Celebrate with Friends during our
new fun fundraiser for the hiking trails of Van Cortlandt
Park. Come see why VCP is Where NYC Hikes. Hike starts
at
2pm
and attendees will participate in a 2 hour 4-5 mile
hike or a 2 mile leisurely hike. Oktoberfest starts is from
4pm-7pm
where there will be German food by Loreley
Restaurant & Biergarten, beer and fun yard games! Meet
at the Van Cortlandt House Museum. Tickets and
Sponsorship information below and can be purchased
25th Anniversary Celebration: Honoring our
Founders
Sunday October 15th

from

6-9pm
Join us as we celebrate the 25th Anniversary of the
Friends of Van Cortlandt Park and Honor our
Founders: Felicity Nitz, Frances Beinecke, Susan
Morgenthau, Elizabeth Scheuer, Jane Sokolow and
Sybil Wailand. Event hosted by Meredith Vieira.
Our guests will enjoy dinner, drinks and dessert out
on the deck of the Van Cortlandt Golf House
overlooking Van Cortlandt Lake. Tickets and
Sponsorship information below and can be