We're just 10 days away from the New York City elections on Tuesday, November 2 and early voting is OPEN starting today!
Voting early is a great way to avoid crowds and cross voting off your to-do list. To vote early, you must vote at your assigned Early Voting site — which you can find here. (Your Early Voting site may be different from your Election Day site.)
In addition to voting for the next Mayor and City Council offices, this election includes five statewide ballot measures that impact voting registration and absentee voting, environmental protections, redistricting, and more.
The impacts of this election could be historic. One city council candidate who took Alexandria's Courage to Change pledge, Felicia Singh, could become the first South Asian on the NYC Council if she wins the District 32 seat (which is currently the last Republican-held district in Queens).
Here are the hours for early voting: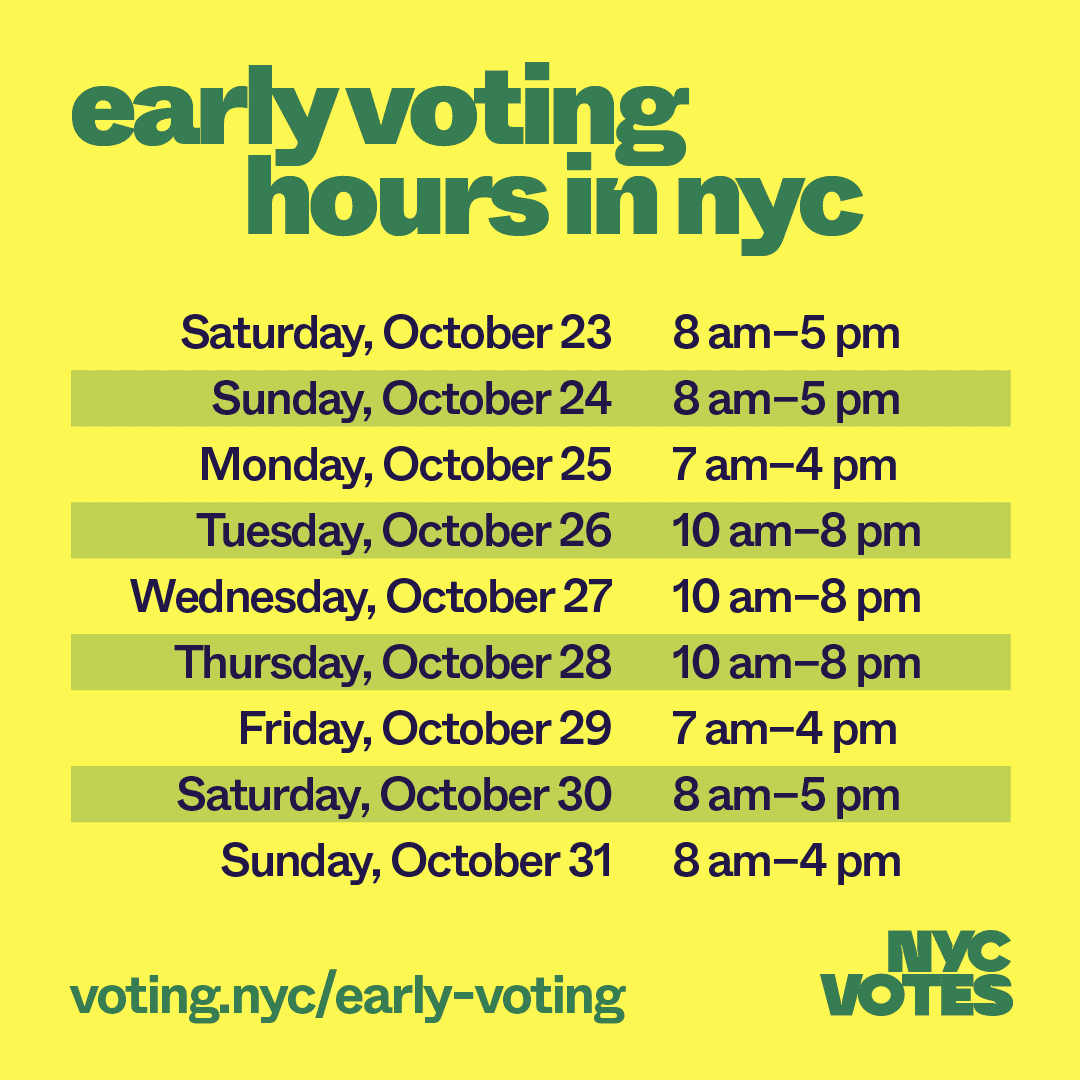 Here is some other key voting information:
You can check your voter registration online here.
On Tuesday November 2, polling places are open from 6:00 AM to 9:00 PM. We recommend going early. Find your polling place here.
New Yorkers can take up to two hours of paid time off in order to vote if their work schedule otherwise prevents them from voting in person while the polls are open. More info on your rights as a voter here.
Bring a mask, water, and some snacks: Lines could be long, but please stay in line. You might also consider bringing a chair.
Registered voters do not need to show ID to vote, unless you are a first-time voter who registered by mail and did not provide identification. If you did not provide a form of ID with your registration (i.e. Driver's license, non-driver's ID number, or last four digits of your social security number) you will still be allowed to vote by affidavit ballot. More info here.
Take care of yourself and others. If you can, offer rides to friends and family to the polls, pass out food or water, and make a plan to support your community to vote.
If you have any questions, please call 1-866-Vote-NYC
City and local elections are crucial for shaping a vision for New York City that supports workers, reimagines public safety, protects our right to safe and decent housing, and invests in our communities.
Please forward this email to your friends and family in the city as well.
With thanks,
Team AOC