Trainings and Workshops
The
Third Avenue Business Improvement District Training Series
is designed to ensure that local businesses and community stakeholders interested in building community power and in supporting equitable economic activities have the quality expertise they need to engage in this work while developing their business or organization. Our training participants leave with the skills, knowledge, and abilities to tackle complex community development, business issues, and an understanding of the BID's work in the community.
Our trainings are free, or low-cost. These workshops address barriers for district
small business owners and build robust equitable economic development tools.
These tools help drive the systemic change needed to support equitable economic
development in the Bronx. We encourage you to search our current and upcoming
workshops here.
Harm Reduction 101, Weds - February 26, 2020 - 10:00am
Harm Reduction 101 is part of the Third Avenue Public Health Certification charged
w/ understanding & enhancing public health and wellness.
NYS Plastic Bag Ban Info Session,
Weds - February 26, 2020 - 5:00pm
Learn about the NYS Plastic Bag Ban and what steps you need to take to comply
with the law.
Multi-Sector Meeting 24/7 Care Center at the HUB, T
hurs - March 5, 2020 - 10:00am
This quarterly check-in provides multi-sector updates on creating a 24/7 Care Center
at the HUB.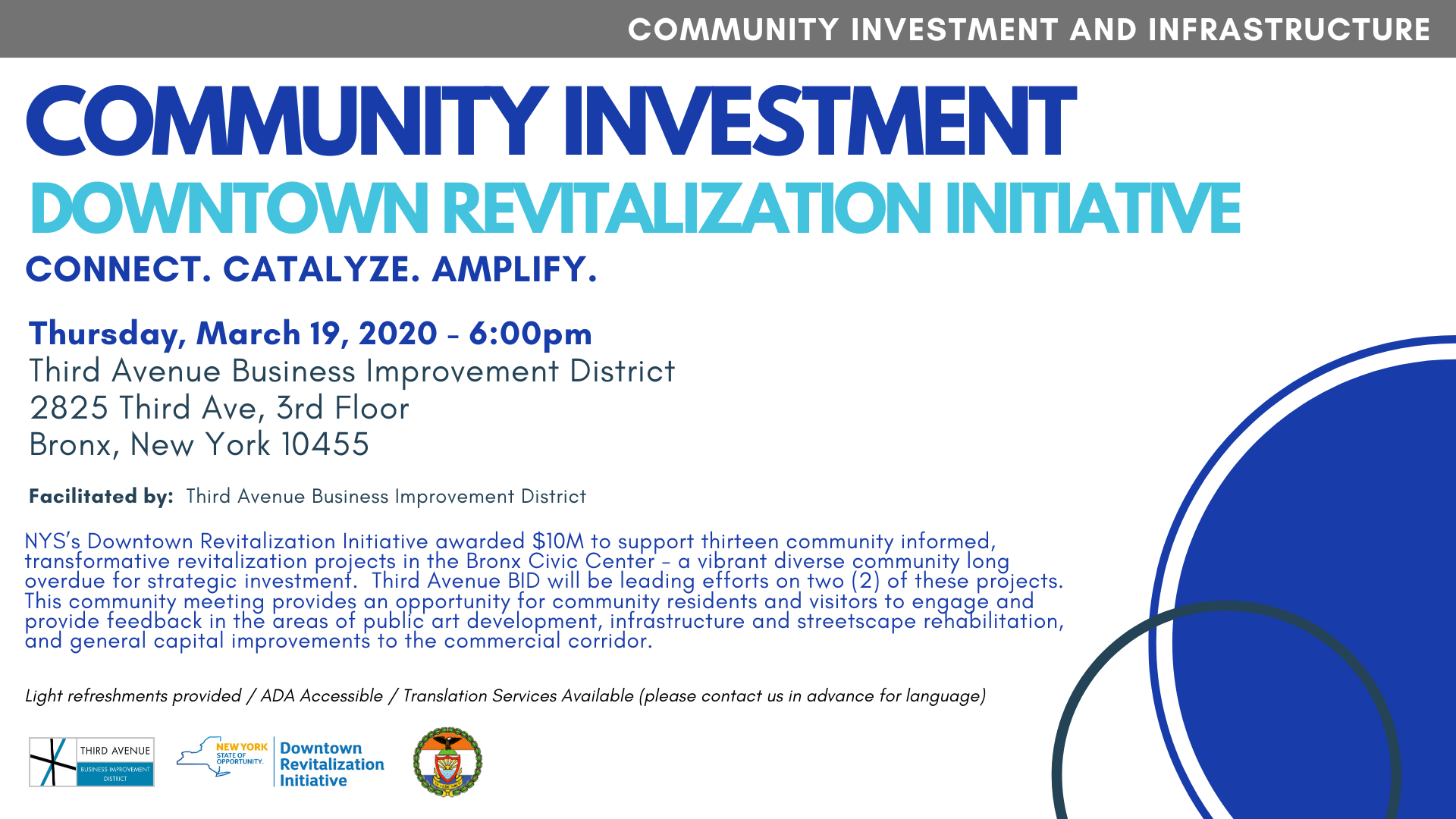 Downtown Bronx Capital Projects Explained,
Thurs - March 19, 2020 - 6:00pm
Learn about capital investments in the area resulting from the Downtown
Revitalization Initiative

The meeting will focus on:
Bronx DRI Plan Briefing

Third Avenue BID - Lead Projects

RFP and Procurement Overview

Community Q & A
Understanding Your Lease,
Thurs - March 26, 2020 - 6:00pm
The leasing process giving you a headache? Come and speak to experts that
will help you understand your commercial lease
Starting Your Business - The Essentials,
Weds - April 22, 2020 - 6:30pm
Starting a business can be tough - come and learn about what you need to know.
Developing a Business Plan, Weds - May 13, 2020 - 6:30pm
Business Planning 101 - Planning and Understanding Your Future
Pricing Your Products and Services,
Weds - June 17, 2020 - 6:30pm
Remain Competitive - Pricing Your Products and Services