Bronx Week 2022 is off to a great start! We have had the honor of celebrating our community sponsors, older adults, small businesses, veterans, and so many others that have helped to make this Bronx Week memorable. We are also grateful to all of you for your continued support in making this borough-wide celebration a success once again.
Although we have much to celebrate in the Bronx, last Monday reminded us that there is still much work to be done to support our residents and families.
Last Monday, we learned about the Supreme Court`s draft majority opinion that would overturn Roe v. Wade, the landmark decision by the U.S. Supreme Court that protects a woman`s right to an abortion in our country.
In New York City, the rights of pregnant women and birthing individuals will ALWAYS be protected. Our reproductive rights are not up for debate and neither are our bodies. At Bronx Borough Hall, we will always fight for reproductive justice and will continue to do so alongside our advocates and elected officials. We will have more information soon on how you can join us in supporting pregnant women in the Bronx, New York City, New York State and across our country.
If you have any questions or concerns, please do not hesitate to contact our office at
718-590-3500
or email us at
webmail@bronxbp.nyc.gov
.
Bronx Borough President Vanessa L. Gibson
Bronx Week in Full Swing!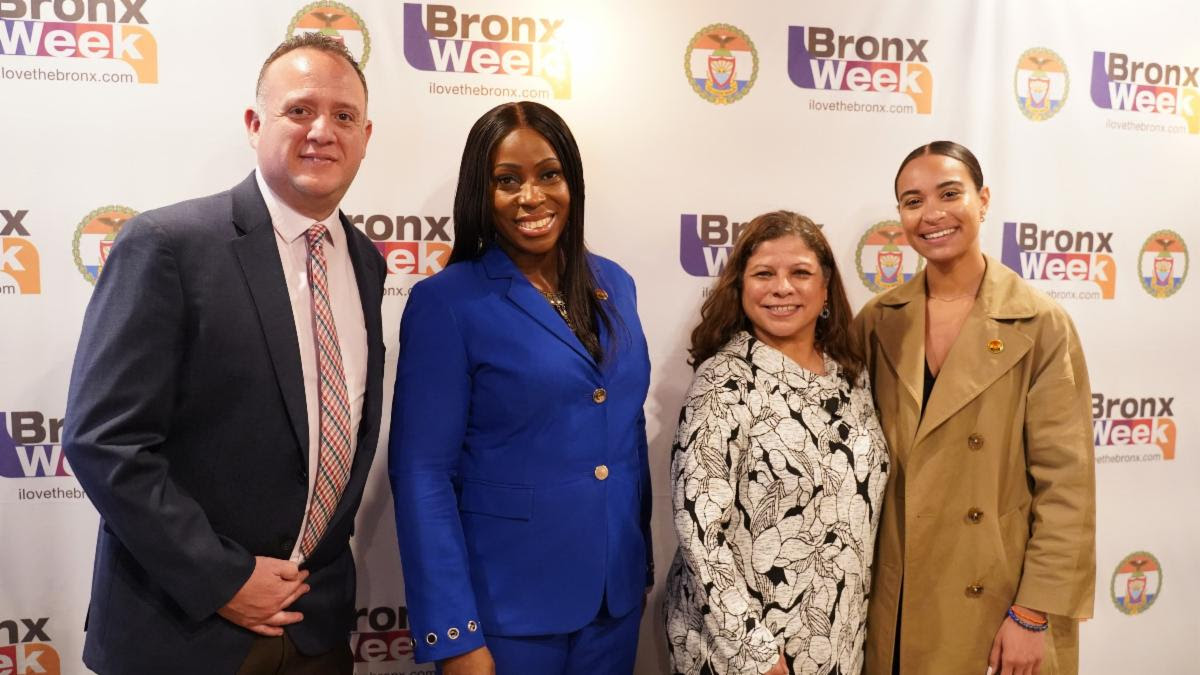 Before launching
#BronxWeek
, we wanted to thank all of our incredible sponsors for their labor of love and contributions to making Bronx Week 2022 a success!
Thank you to all of our sponsors who made this year`s Bronx Week possible:
Empire Blue Cross Blue Shield
Visiting Nurse Service of New York
We partnered with the
Bronx Community Foundation
and
Tech FIN (Technology For Families In Need)
to address the digital divide in our community and distribute tablets.
We understand the importance of having access to up-to-date technology, it gives us access to the world and people around us. We want to make sure that as we move forward with our technology, we are not leaving anyone behind.
Thank you to the Bronx Community Foundation and Tech FIN (Technology For Families In Need) for collaborating with us on this endeavor.
Who better to jump-start our Bronx Week than our older adults!
We had a wonderful time at Golden Corral during our Senior Event! We sang, we danced and we praised!
We are all the product of those that came before us and it is only right that we celebrate them!
Thank you
Humana
and
Empire Blue Cross Blue Shield
!
And a big thank you to Golden Corral and their staff for hosting us!
We hosted our Small Business event with
N
YC Small Business Services
and we honored and celebrated our immigrant small business owners in Little Yemen here in the Bronx. They are vital to our community and our city.
We honored community trailblazers:
Yemeni-American Merchants Association
Alliance of Yemeni American Businesses
The New Bronx Chamber of Commerce
Thank you for all that you do and for serving our community!
& Thank you to Mayor Adams, SBS Commissioner Kevin D. Kim and Council Member Velasquez for their continued support and partnership!
Today, we had the honor of recognizing our incredible veterans at our Veteran's Appreciation Breakfast!
So much of who we are and so much of what have in this country we owe to those who have put their lives on the line for our civil liberties.
In honor of their sacrifice and their service, we honored:
Detective Roberto Oviedo (U.S. Marine Corps)
Rene Cabrera Gonzalez (U.S. Marine Corps)
Abigail Taylor (U.S. Army)
Lauren Patterson (U.S. Army)
To all of of our veterans, you have our eternal gratitude for all that you have done to keep us safe.
Our office is partnering with researchers at Columbia University to help local officials and community-based organizations understand the unique challenges facing New Yorkers and what they can do to help.
Communities Speak
, started at Columbia University, is collecting information on the experiences of individuals, families, and small-businesses across the city through surveys and sharing that information with city government and community-based organizations. This is an exciting opportunity for you to make a difference in our city.